Lemon Poppy Muffins
November 10, 2021
By Bonnie Wisener, (bonniewisener.com)
Ah…love the time to create. As I have said many times throughout this blog, I am not a baker. I am not. My friends know this. My family knows this.
However, I am a Shifter. I love taking a favourite recipe and making it healthier. That's what I have done here. Except in this case, this started out as an old family favourite Orange Cranberry Muffin recipe. Note, many of my recipes are gluten free because so many people I serve are looking for gluten free options. However, in nearly every case, they can easily be adapted and enjoyed using your flour of preference. I consider them SHIFTED and made healthier because in many cases:
They contain lower sugar content than the original version
They contain healthier (or no) oils vs. the original recipe
They contain less processed flours.
Lemon Poppy loaf has always been one of my favourites. This recipe reminds me of my Aunt's sugar glazed pound cake. I prepared it with and without the glaze. See which you prefer. It is really good either way.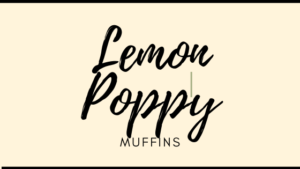 WHAT YOU NEED:
3 eggs
1 cup coconut oil, melted
1/2 cup coconut sugar
2 tbsp lemon zest
6 tbsp lemon juice (fresh)
1 1/2 cups Bob's Red Mill GF one-to-one flour (or gf flour with xantham gum, or regular flour)
1 1/2 tsp baking powder
1/2 tsp baking soda
1/4 cup poppy seeds
Optional Glaze –
Icing sugar (1/4 cup)
Water (2 tbsp)
WHAT YOU DO:
Preheat oven to 350
Line muffin tin with paper liners or grease muffin tin with coconut oil or spray.
In a large bowl, blend eggs, coconut sugar and coconut oil.
Add lemon zest and juice to bowl and combine.
Add all dry ingredients (flour, baking powder, baking soda) and gently mix until well blended.
Add poppy seeds and stir in until well combined.
Scoop batter into muffin cups, filling them till 3/4 full.
Bake for 20-25 minutes, until golden
GLAZE:
When muffins have cooled –
Place icing sugar and water into a bowl and stir with a fork until combined and creamy.
Using the back of a spoon or a pastry brush, add a thin glaze of sugar onto each muffin.
Enjoy
xo
Want to contribute?
We love to promote our members. Submit your blog below and get featured on the CSNNAA blog!
Submit a blog