Bi-Monthly Member Spotlight
September Member Spotlight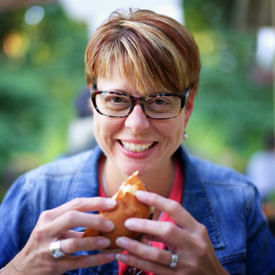 Kelly Aiello
Name of business: HappiHuman
Website: HappiHuman.com
Find all Kelly's online links and social media channels here.
The most important thing Kelly Aiello, R.H.N. has learned as a wellness practitioner over the years is to stick to what you love, and your clientele will find you!
"I'm passionate about mental health and wellness," Kelly says. "That's why I became an R.H.N. in the first place (after my husband suffered a serious brain injury)." Kelly has been working as a wellness practitioner since August 2017, and she has truly found her niche. She serves clients around Canada, but predominantly works in her home province of B.C.
Now she has truly discovered her niche—people who want to improve their brain health, mental clarity, and cognition, as well as those looking to manage anxiety, depression, or post-concussive symptoms naturally. But when she first started out, Kelly accepted any and every client that came through her door.
"I often had to 'go back to the books' to offer the best advice to someone. But once I started targeting my ideal clients, they started to find me. Now, most of my clients come to me through word-of-mouth, struggling with various mental health issues. With each person I work with, I'm privileged to learn something new, strengthening my knowledge base, which allows me to strongly serve even more people."
Kelly has enjoyed many highlights in her career as an R.H.N. so far.
"I am honestly overwhelmed with the support and recognition I have received over the years from my local community as I have been awarded the Kamloops Reader's Choice Award for Top Nutritionist the last three years in a row and have been published in several Good Life magazines produced by Nature's Fare Markets. But I have to say the greatest highlight thus far has been recognition from CSNNAA as the 2021 recipient of the Julie Daniluk Award."
When asked about the advice she would offer to R.H.N.s or C.H.N.s who are just starting out, she says: "You can't manage "everything" in one session. This can be very overwhelming for clients, especially if they have multiple complaints. To enact lasting change, start clients off slowly with a few key recommendations first, then build upon that. Don't expect to teach them everything in one session!"
Kelly's favourite thing about being a member of CSNNAA?
"All the webinars and courses offered on relevant and current topics help me stay on top of new discoveries to deepen my knowledge base."
Find out more about Kelly and her business, HappiHuman at https://linktr.ee/kellyaiello.
Finding ways to be unique and true to herself is of utmost importance to Cindy Spratt, who has been practicing as a Registered Holistic Nutritionist in B.C. (and virtually across Canada and the world) for the past 10 years. In her business Cindy combines the specialties of eating psychology, eating disorder recovery and culinary nutrition, together with holistic nutrition, in a way that expresses who she is and how she wants to help others.
"I work with individuals looking to rebuild a positive relationship with food and body. My goal is always to weave all my specialties together to provide a comprehensive and highly individualized approach for my clients."
Cindy serves women who have a history of dysfunctional eating, moms looking for help with picky eaters and children struggling with autism/ADHD, people with digestive disorders, and those focused on cancer prevention/recovery.
The most important thing she has learned through her journey as a wellness practitioner is "to be true to who I am as a person and not be afraid to be open and vulnerable and accessible—this is how I attract the right clients for me and also get the message out that it's ok to be real, honest, and imperfect."
To other R.H.N.s and C.H.N.s starting out, she offers this advice: Take things one step at a time. Don't worry about how others are doing things, but rather create your practice in a way that really feels true and right for you.
Cindy spends her days working on her website, running successful online courses, cooking classes for kids and adults, and she is excited about her very first retreat, coming up this summer!
What she loves about being a member of CSNNAA?
"I love the community, the support, and the wealth of continuous information sharing – it is invaluable when navigating such a big, and ever-changing field."
Find out more about Cindy and her work at www.cindyspratt.com.
Seanna Thomas has been practicing as a Registered Holistic Nutrition Consultant since 2010. She lives in Ontario, but is helping people all over the country and around the globe since expanding the virtual side of her business.
"I have always been focused on helping Moms and families streamline their nutrition," Seanna says. "Now, with [my business] Hockey Snacks, I help young athletes, teams, coaches, and their families learn to fuel for performance. And I still help busy Moms that feel overwhelmed with mealtimes, and make nutrition easy and convenient!"
The latest highlight of Seanna's career has been a brand partnership with Quaker and Hockey Canada. "I love to work with brands that people recognize," she says. "It's a pleasure helping people integrate realistic and sustainable solutions into their everyday lives."
But the biggest highlights, she continues, come when clients tell her the impact she has on their lives and how much better they feel.
The most important thing Seanna has learned in my journey so far is to delegate things to others.
"I am great at my job, and not great at things like website design and bookkeeping. Reaching out to others for help and letting THEM work in their zone of genius so I can work in mine has been life changing."
One piece of advice she would give to someone starting out as an R.H.N. or C.H.N. is to define who you want to work with, and then launch, even if it's not perfect.
"Many of us procrastinate for way too long, wanting everything to be a certain way. JUST LAUNCH. You can always change it."
One thing she loves about being a member of CSNNAA is the support.
"Having a safe place to ask questions and gather information is incredible, especially when you're starting out."
Find out more about Seanna and her work at www.hockeysnacks.com.
One of the most important things that Jenna has learned in the five years she has been in practice is that it's not always about the food. "The majority of my clients know they should be eating vegetables and drinking more water, but it's why they aren't doing so, that is really key."
Jenna, who works with people in Alberta, BC, Saskatchewan, Manitoba and Ontario, is passionate about helping her clients navigate those whys. And it's through this process, she says, that they find the freedom to live a healthy lifestyle.
Jenna's business focus is emotional eating and body image. She helps women feel at home in their bodies, and in control when they are around food.
"I love helping my clients, and seeing the impact nutrition and mindset coaching has on their lives is so rewarding."
The advice she would give to new CSNN grads is: "Meet every client where they're at. Most of the time, less is more. Allow your client to build small key habits slowly, and over time. Diet overhauls are never successful."
The thing Jenna loves about being a member of CSNNAA is the continued training and supportive webinars each month. Want to check out these webinars? You can do so here.
And find out more about Jenna and her work at www.simplynurtured.ca.
Kristina Mitts
Mind Mood Microbes
www.mindmoodmicrobes.ca
IG: @mind.mood.microbes
Kristina has been in practice since 2018, and she works with clients all over the world. Through her business Mind Mood Microbes she loves helping people with chronic conditions access more energy, less anxiety and more food freedom by harnessing their microbiome. Kristina got started on this path through the process of healing herself from chronic health issues, which is how she developed an appreciation for viewing the human body as "an intricately woven piece of art". Show More